The 8 stages of wool production
1. Processing the raw materials
After shearing, the wool is sorted and washed. All of the fibres, both natural and synthetic, are dyed, wrung out and dried to the correct level of humidity.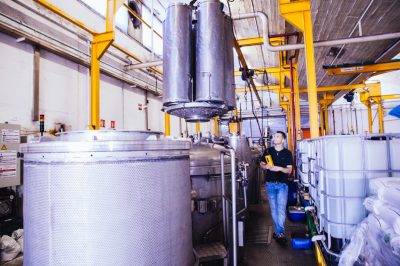 The strand passes through enormous drawing frames which elongate it, refine it and apply just the correct tension to increase its strength. It is then wound around fine bobbins called "cops" by 2,400 spindles.
The wool you knit with is made up of 2 to 8 threads. In the case of a classic yarn, it is the tension of these threads that gives the finished product its strength. A fantasy yarn has no tension. In this case, one or more stronger "core yarns" are used to create this strength. The Bergère de France spinning
mill is one of very few in the world which are able to produce both classic and fantasy yarns.
The assembled yarn is taken to a final warehouse which does not have a controlled atmosphere. First, they go through yarn steamers, with steam at 98 °C, which fixes the tension of the yarn and reinflates the material. From here, they are taken to a winding machine, which is extremely accurate and able to create balls of yarn correct to the nearest gram. Every 30 minutes, the technician who operates the winding machine removes a sample ball and checks it on another machine to ensure that the weight and humidity of the yarn is constant.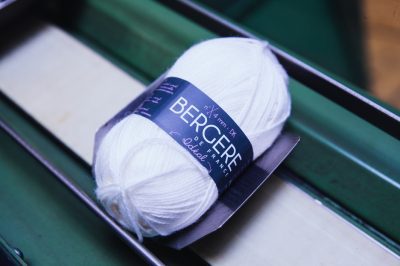 So that they can be mixed uniformly, the fibres must all be of approximately the same length and as parallel as possible within the strand. To achieve this, machines crack the acrylic fibres by running them through rollers at very high speeds. A defelter begins to mix all the different types of fibre that constitute a thread and to brush them so that they are oriented in the same direction. The wool passes through three machines of this type.
The cops are unreeled so that the fibres can be examined – any defect detected by the fibre optic camera is automatically corrected – then rewound onto large, single-thread bobbins weighing 4-5 kg.
After assembly, the threads are inserted into a twister. They are subject to tension the reverse of what they received in the initial stage. These two types of twist are called S or Z twists depending on whether they are anticlockwise or clockwise.
Finally, the balls which have been bagged by the winding machines arrive at the logistics department. From here, 500 to 600 tonnes of wool are dispatched every year, together with catalogues, rochures, books, haberdashery items etc.